Description
Wow another great art teacher is heading to the studio. On this occasion we will be working with pastel pencils to create a little photorealism art work.
Lyn Orzlowski of Orzlowski Fine Art www.orzlowski.com.au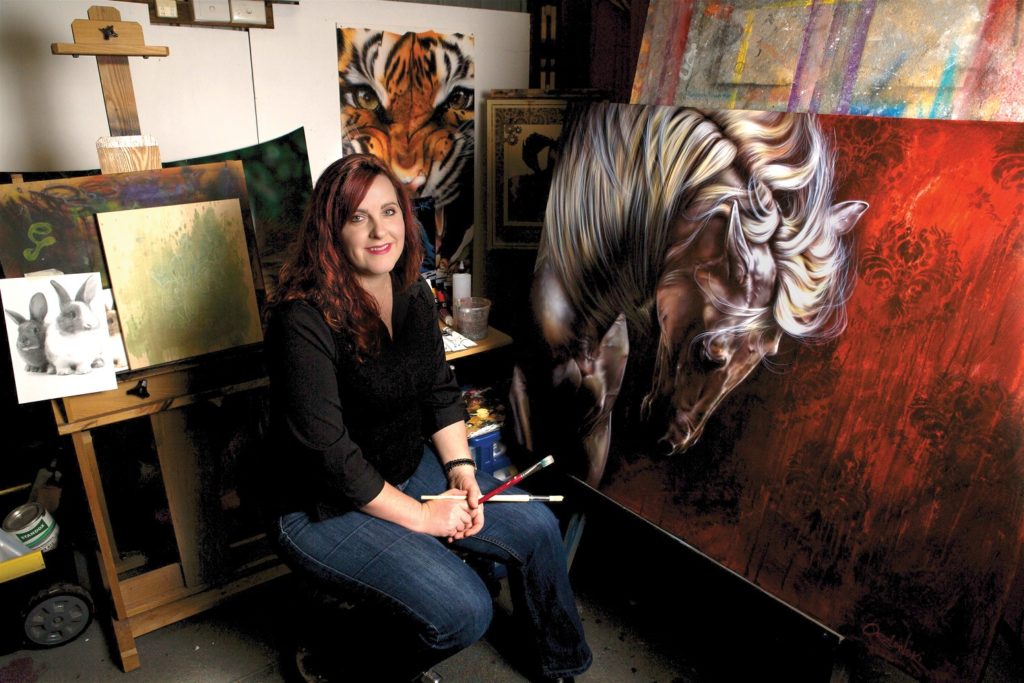 Lynette is a Melbourne based artist whom uses a variety of mediums and holds a wealth of information and the wonder of colour and light has been a constant inspiration for her now for over three decades of painting.
She has established herself in the art community through solo exhibitions and group shows as a highly respected painter and she is often invited to demonstrate her craft Intrastate, Interstate and Internationally.
Lynette's disciplined approach in her study of the horse has been greatly emphasized by spending countless hours at events, shows and tracing through the sometimes-muddy paddocks. Inspired by what she sees, Lynette then goes back into the studio, transforming them into two – dimensional artworks, all the while putting great emphasis on the technical execution.
Anyone who appreciates classic elegance cannot but be drawn in by what she creates.
Workshop Description:
Pastels are both a drawing and painting medium and the ultimate tool for the creative artist.
This workshop style class allows you to practice techniques to utilise the pastel pencil to create photorealistic images, with the guidance of an experienced artist.
The emphasis of this course, beside learning the basic rules, is to enhance your Pastel skills to create realistic looking animals.
Workshop Outline:
Materials and tools. (introduce New Products)
Look at Animal fur, feathers, noses and textured skin
The use of the Airbrush to create 'bokeh' effects (Bokeh is defined as "the effect of a soft out-of-focus background that you get when shooting a subject, using a fast lens, at the widest aperture, such as f/2.8 or wider." Simply put, bokeh is the pleasing or aesthetic quality of out-of-focus blur in a photograph.)
Complete an animal portrait
Putting your knowledge together.
No art skills are required beginners to advanced are welcome. Workshop numbers are limited to 12. 
Requirements List: Will be sent as an email attachment upon booking.
Date: Saturday 23rd May 2020
Time: 10.00 – 16.00
Location: Threads and Tangles Studio, Langwarrin 3910
BYO: Lunch. Morning and Afternoon Tea and Coffee will be provided
Overall Actual Class Fee: $120.00
Cancellation: A 25% cancellation / administration fee of the deposit to be applied if late notice is given of cancellation and the vacancy cannot be filled.
Note:  A workshop booking fee of $60.00 of the actual total class fee is required to secure your place. This can be paid through the online process or you can pay with a direct bank transfer or cash. If you would like further information about this workshop or seek to pay as a direct payment or with cash please don't hesitate to contact me either through info@threadsandtangles.com.au or ring 0429024299.
PLEASE NOTE IF PAYING THROUGH THE ONLINE PAYPAL PROCESS OR AS A DIRECT BANK TRANSFER THE $60.00 FEE AS LISTED EQUATES ONLY TO THE DEPOSIT BOOKING AMOUNT AND THE REMAINING OUTSTANDING WORKSHOP FEE IS REQUIRED TO BE PAID ON THE DAY OF THE CLASS.