Description
Oh My Gosh aren't l happy, Janet Matthews Artist is coming to the Studio!
Janet is a colour pencil artist and she does wonderful work and quite honestly l am not sure l can add many words to describe her work but rather I encourage you if you don't know her to cross over to her website – and make your own decision http://www.janetmatthews.com.au/
Class Description:
Please note the images as displayed are only examples for the purpose of advertising the class.
Day 1 – Janet will guide and supports us while using a base drawing to create a "GLOSSY BEETLE". In this process Janet demonstrates and encourages note taking. We then have a period where we start to colour using the techniques as explained and by the end of the day we should all have a better understanding of how to create such gloss and most likely a near completed insect.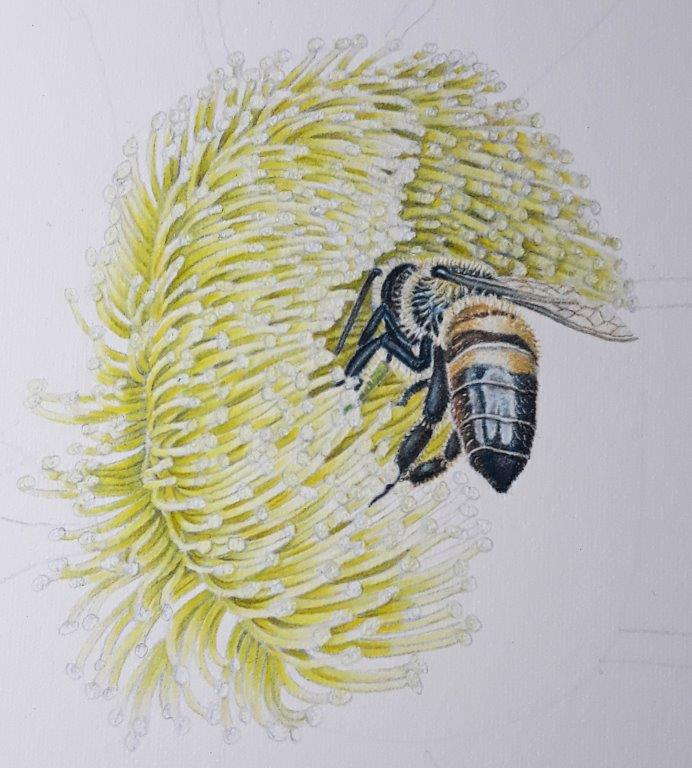 Day 2 – Are you ready for Day 2 "A CICADA". The focus in this class will be to draw those fabulous translucent wings of a cicada. The days process will be the same as day 1.
Beginners welcome and if you require further information please initially email info@threadsandtangles.com.au  
Date: Saturday and Sunday TBA 
Location: Threads and Tangles Studio, Langwarrin 3910
BYO: Lunch. Morning and Afternoon Tea and Coffee will be provided
Overall Actual Class Fee: $200.00
Cancellation: A 25% cancellation / administration fee of the deposit to be applied if late notice is given of cancellation and the vacancy cannot be filled.
Note: A class booking fee of $100.00 of the actual total class fee is required to secure your place. This can be paid through the online process or you can pay with a direct bank transfer or cash. If you would like further information about this class or seek to pay as a direct payment or with cash please don't hesitate to contact me either through info@threadsandtangles.com.au or ring 0429024299.
PLEASE NOTE IF PAYING THROUGH THE ONLINE PAYPAL PROCESS OR AS A DIRECT BANK TRANSFER THE $100.00 FEE AS LISTED EQUATES ONLY TO THE DEPOSIT BOOKING AMOUNT AND THE REMAINING OUTSTANDING CLASS FEE plus a kit cost IS REQUIRED TO BE PAID ON THE DAY OF THE CLASS IF NOT BEFORE.