Description
Robert, an Australian Fine Artist is back at the Studio and this time he is going to guide us with capturing the ethereal mood with acrylics.    
Robert has a background as a professional sign writer and as time went on he continued to have a desire to create his art as such using his natural talent Robert went onto be a full time artist working with Charcoal, Oils and Acrylics while taking in a range of styles and subjects.  Robert is well known for his depiction of the classis Australian Eucalypt (Gum) trees. 
Robert is a well-recognised fine artist and his art work and teaching is well sought after.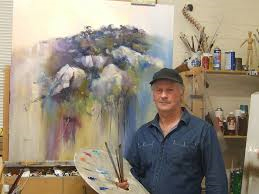 Class Description:
In this class Robert will guide us using photographs as design prompts to create the mood.  We will use a limited acrylic palette apply expressive brush strokes and blending techniques to create an expressive artwork.   
Beginners welcome and if you require further information please initially email info@threadsandtangles.com.au  
Date: Saturday 9th May 2020 commencing at 10.00 – 16.00
Location: Threads and Tangles Studio, Langwarrin 3910
BYO: Lunch. Morning and Afternoon Tea and Coffee will be provided
Overall Actual Class Fee: $100.00
Requirements List and Address: Will be provided prior to the class.
Cancellation: A 25% cancellation / administration fee of the deposit to be applied if late notice is given of cancellation and the vacancy cannot be filled.
Note: A class booking fee of $50.00 of the actual total class fee is required to secure your place. This can be paid through the online process or you can pay with a direct bank transfer or cash. If you would like further information about this class or seek to pay as a direct payment or with cash please don't hesitate to contact me either through info@threadsandtangles.com.au or ring 0429024299.
PLEASE NOTE IF PAYING THROUGH THE ONLINE PAYPAL PROCESS OR AS A DIRECT BANK TRANSFER THE $50.00 FEE AS LISTED EQUATES ONLY TO THE DEPOSIT BOOKING AMOUNT AND THE REMAINING OUTSTANDING CLASS FEE plus a kit cost IS REQUIRED TO BE PAID ON THE DAY OF THE CLASS IF NOT BEFORE.