Description
OH my l am so excited to have convinced Dorte Jensen of "Stofbilleder" to teach her fabulous fabric portrait technique to a small group of enthusiastic fabric artists in October 2019.
Dorte will be teaching only one workshop during her short visit to Australia and the numbers for the class are strictly limited to 10 only.
Who is  DORTE JENSEN?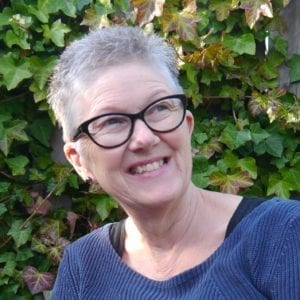 Dorte lives in Denmark and like myself she is a trained nurse and she worked in the specialty of psychiatry for 20 years. The lure of crafts and needlework continued to be an interest and in 1994 she decided that alongside her professional work to undertake training to become a fabric art teacher through a teachers college in Odense.  In this regard her passion was picture sewing and her first fabric portrait was created.
Dorte's portrait work however remained in obscurity in the early days particularly while she was still working as a nurse.  During the period May 2007 to January 2014 based on her husbands work requirements she lived in Poland and retired from nursing and concentrated on her long term dream of becoming an interior designer.  Given this she made some interior décor but her fabric portraits kept calling her.  As such she is now well known for her stunning and realistic fabric portraits and Dorte is now a full time Textile Artist.
WORKSHOP
This is a 4-day workshop whereby a self-portrait will be created.  This will include the taking of photos and editing of your photo leading to a finished self portrait of approximately 65cm x 50 cm.
If you need more convincing prior to making your booking here is a link to many of her portrait works http://www.stofbilleder.dk/
TEACHING
Dorte's teaching style will primarily consist of individual guidance, so that you can work at your own pace. You don't need to be experienced and beginners are welcome.  No drawing is required as the photograph forms the basis of your self-portrait.  Hence the first day working on the photograph is so important.
In summary you will learn to make a pattern, build your portrait from different pieces of fabric secured with thread and mounted onto a wooden stretcher with a rubber frame.
REQUIREMENTS
A laptop and a mouse.  The photo program "Elements" must be downloaded as a free 30 day trial to your laptop just prior to the class attendance. If you don't have a laptop there will be a couple of laptops which you may borrow. Don't worry about the required computer work you will be guided all the way through.
A sewing machine with "open-toe" foot
An iron
A workshop kit will be provided and include: fabric; thread; Vlieseline; Vliesofix; pencils; scissors; wooden stretchers and all the stuff you need for mounting the pictures, including a bicycle tube for framing.
WORKSHOP Details:
Time: 09.00 – 17.00
Date:  Thursday 10th – Sunday 13th October 2019
Location: Threads and Tangles Studio, Langwarrin
Total Workshop and Kit Fee: $475.00
BYO: Lunch.  Morning and Afternoon tea provided
Workshop numbers are strictly limited at 10 and to secure your place a deposit of $275.00 is to be paid through the online process or you can pay with a direct bank transfer. Please note that the remaining balance of $200.00 is to be paid on the first day of the workshop.
Once a booking has been made the studio address and any other relevant details will be provided.
If you would wish to make a direct bank transfer or seek additional information about this workshop please do not hesitate to contact me either through info@threadsandtangles.com.au or ring 0429024299.